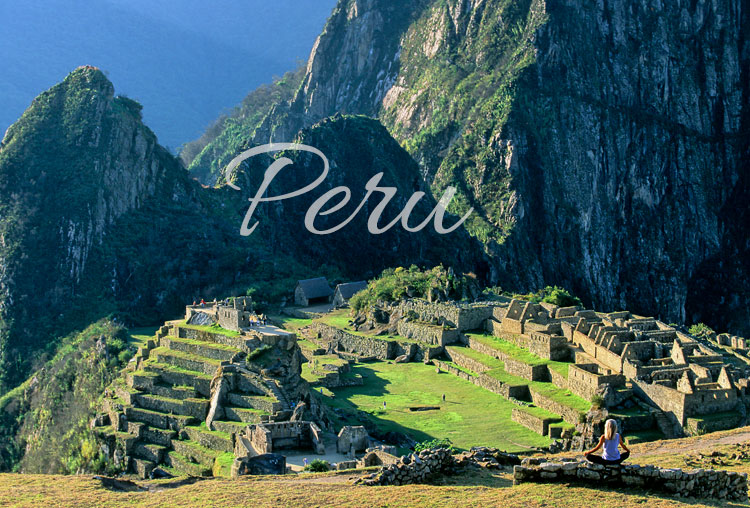 Yoga Adventure into the Spirit of the
Andes Mountains of Peru
Watch for Teacher Training Dates to be announced for May 2024 Sacred Vallery, Peru
Looking forward to Sharing Yoga and our long time connection in Peru with you.
A cultural, spiritual, educational immersion
Yoga Alliance registered School 200 and 500 hour level
Continuing Education Yoga Alliance Registered
IAYT Approved Professional Development
(everyone welcome not just yoga teachers)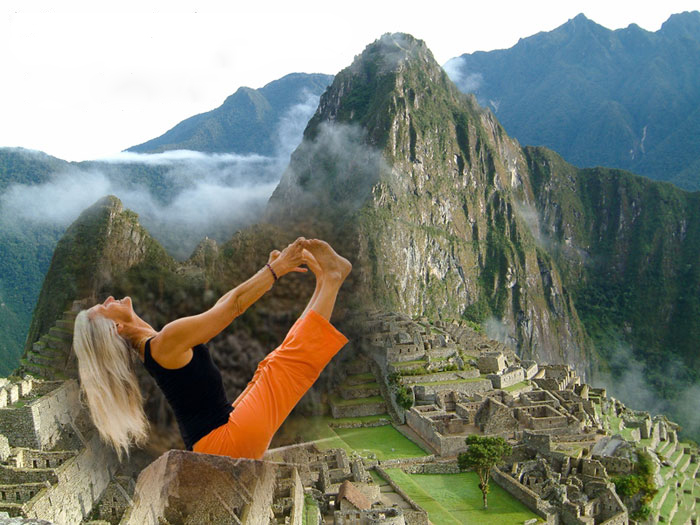 David and Deborah were among the first to explore Peru's Sacred Valley, Machu Picchu and the surrounding magical mountains. Additionally, the couple have climbed and skied Nevado Ausangate, the highest peak in Southern Peru's Andes region. At 21,000 feet, Ausangate is a predominant Apu (or mountain God) emitting a powerful presence and beauty. Forty years ago, they established pathways of travel in Peru that have now become today's predominant travel routes. The friendships established during these travels in remote areas of the high Andes remain at the heart of their trips to Peru. They're glad to share this loving and spiritually infused land and people with those blessed to travel along with them on their journeys.
Our days are full – expect to be active. Come to explore Cuzco's Incan streets, stairways and exquisite ruins with their intricate and massive stoneworks, along with the city's sacred sites.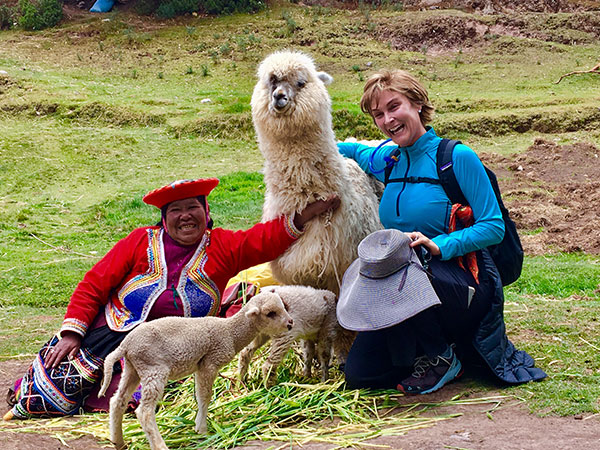 Choosing to join Deborah and David in Peru will take you right to the heartbeat of the Andean land and peoples. Each day is steeped in their knowledge of these amazing mountains and the native culture which makes it such a special place.
Continue on to the Sacred Valley and Machu Picchu. Experience the center of the ancestral Incan world through the eyes of our long-time Quechua friends and family. Become an honored guest and stay in their villages to experience the lifestyle, art and culture, and ceremony with our local Q'eros family.
We will weave our Yoga into the journey, in nature, in the ruins,
and at our accommodations.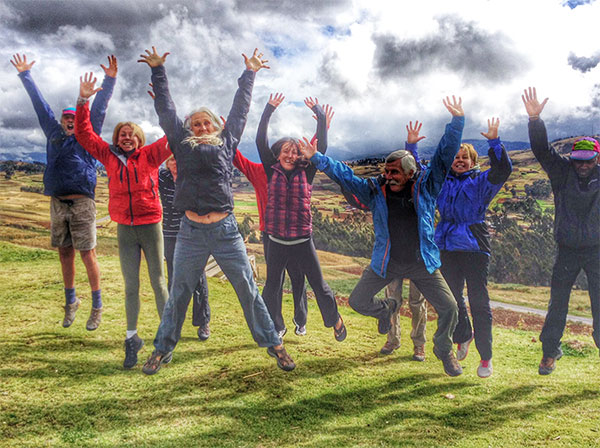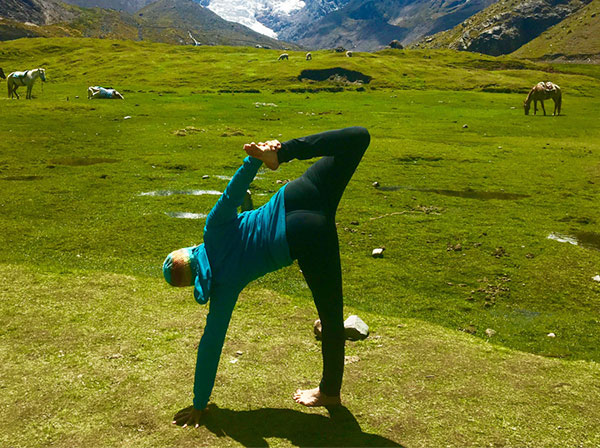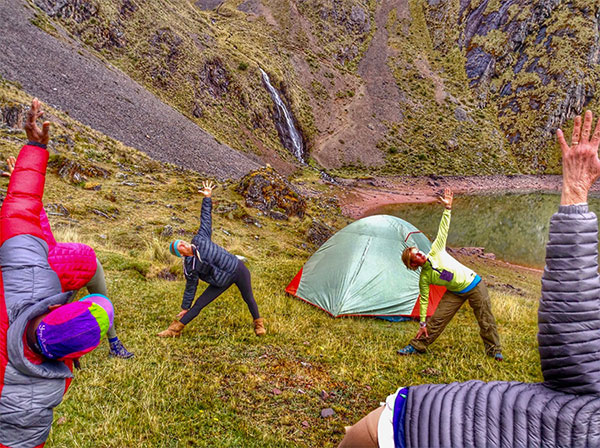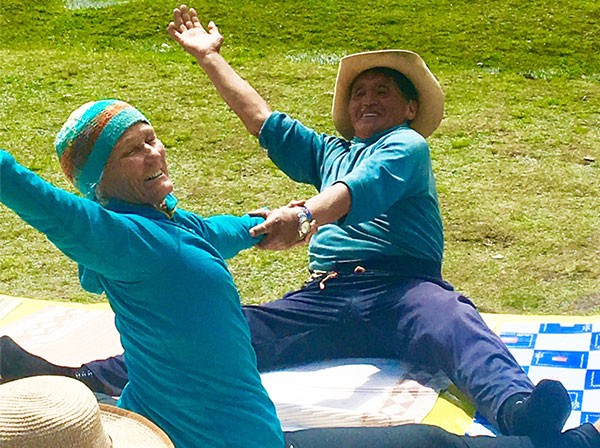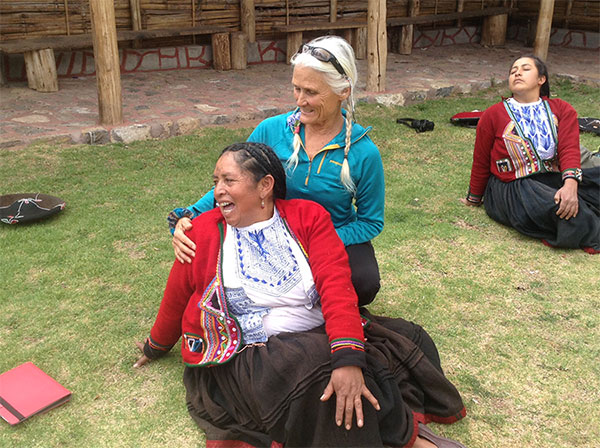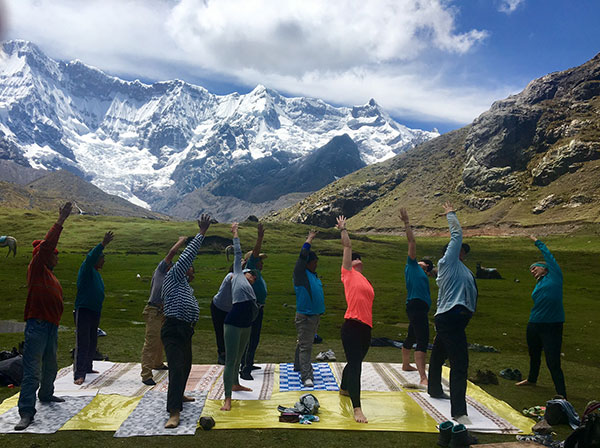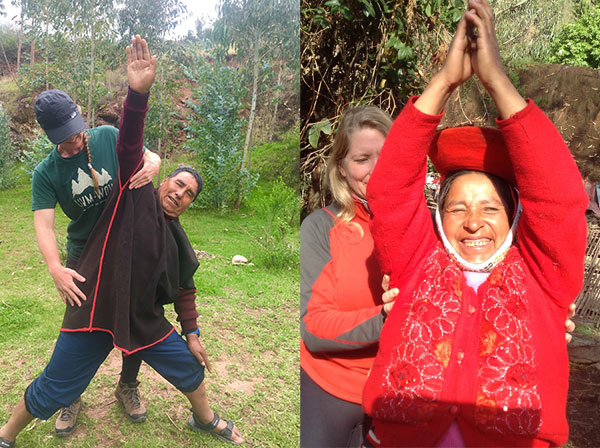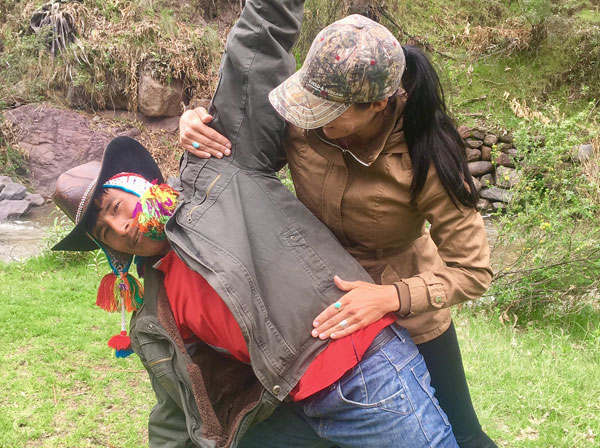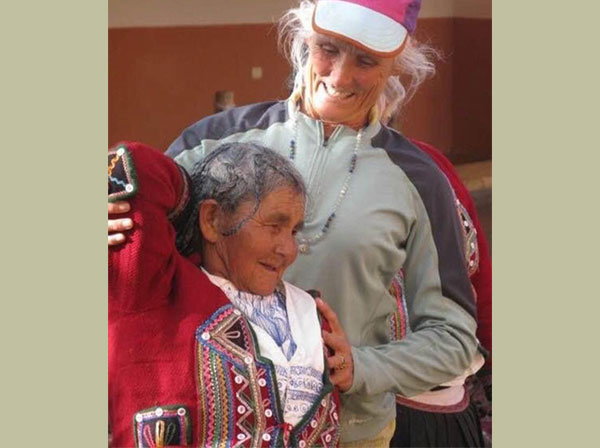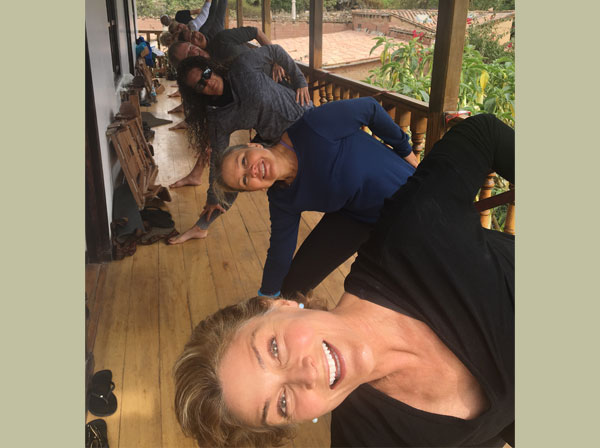 Our accommodations in Cuzco, Sacred Valley, and Machu Picchu are owned and built by our friends. They all offer a lovely, artful and beautiful feeling of comfort and home in true Peruvian style.
On our trekking portion of the trip, our Quechua friends and shamans will join us as we encounter the high Andean energies of the Apus or Incan mountain gods that will empower us on our journey. Visit local villages in the area and meet the highest levels of Incan healers, seers and artisans.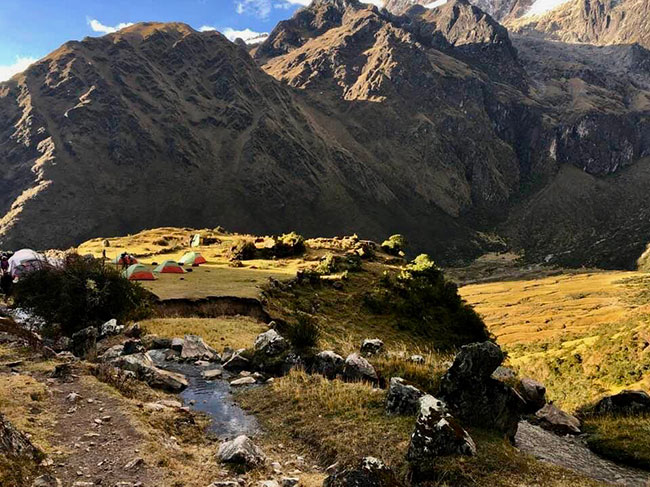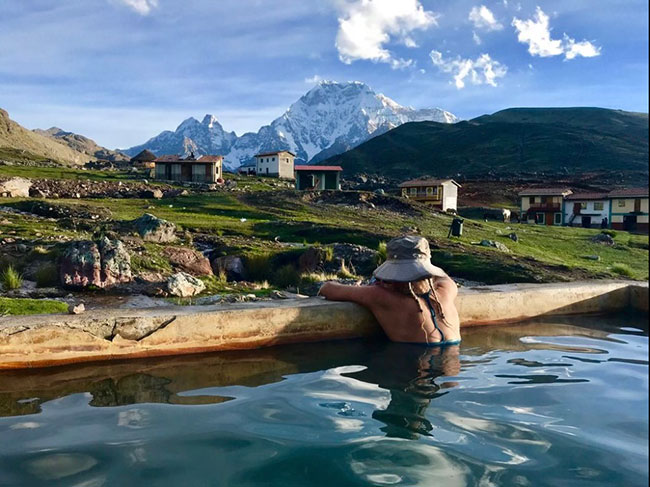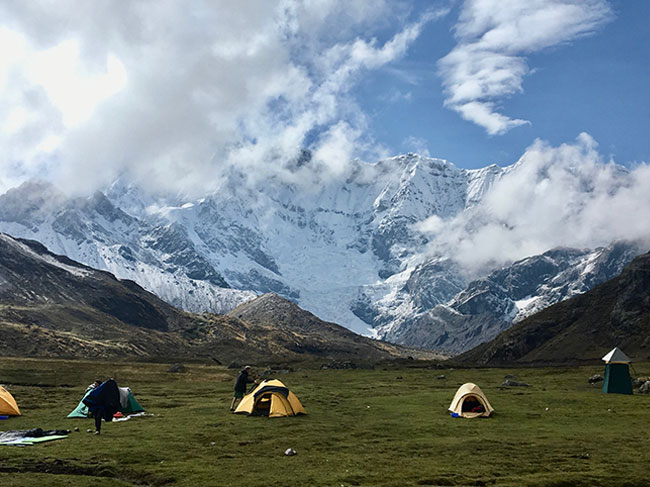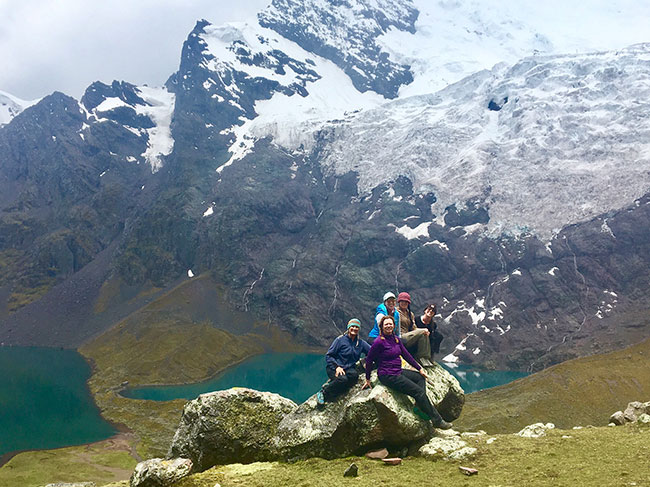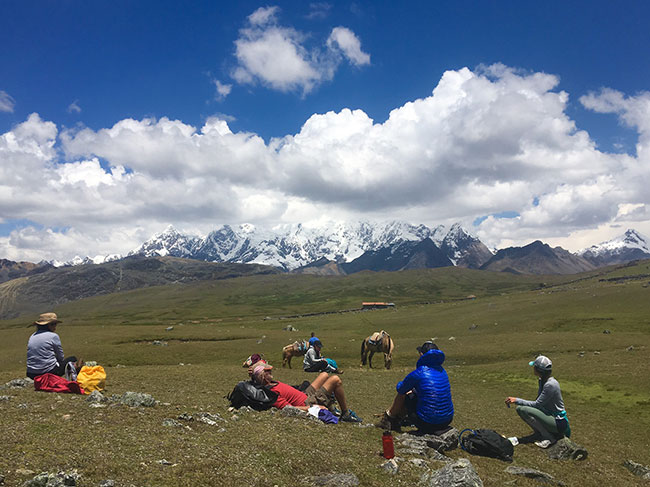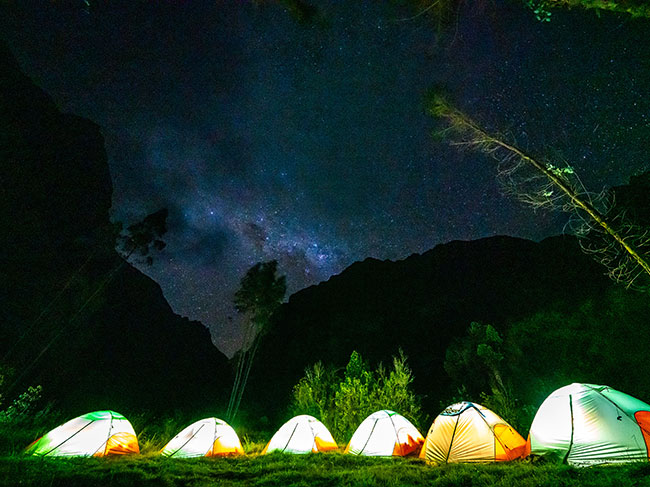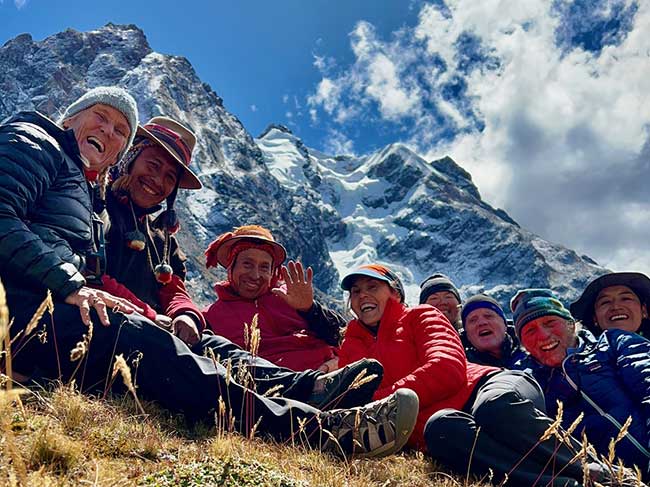 We will camp in spectacular, select locations, enjoy an incredible trek at the base of some of the highest peaks in the region, and feel the nurturing support of our porters, cooks and most importantly, Pachamama, Mother Earth.
A once-in-a-lifetime experience
Lovely, warm, friendly accommodations and
fabulous Peruvian Cuisine on and off the trail.
Intimate group size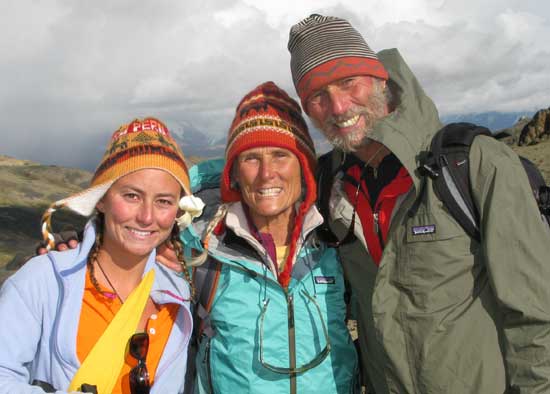 Please contact David and Deborah
for cost and details.
info@yogaadventure.com
970-309-3834
All land cost included / Immediate deposit necessary
– Limited Space –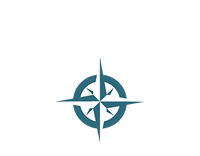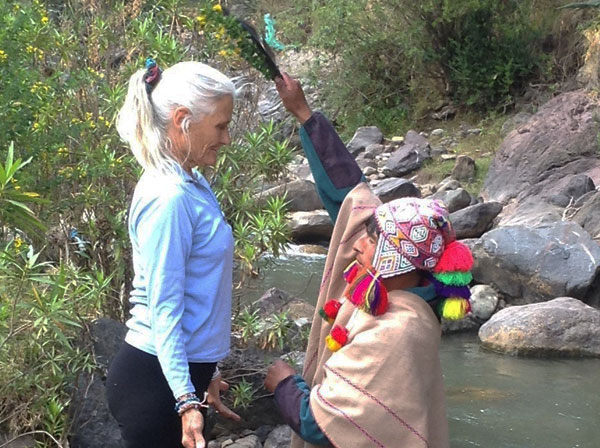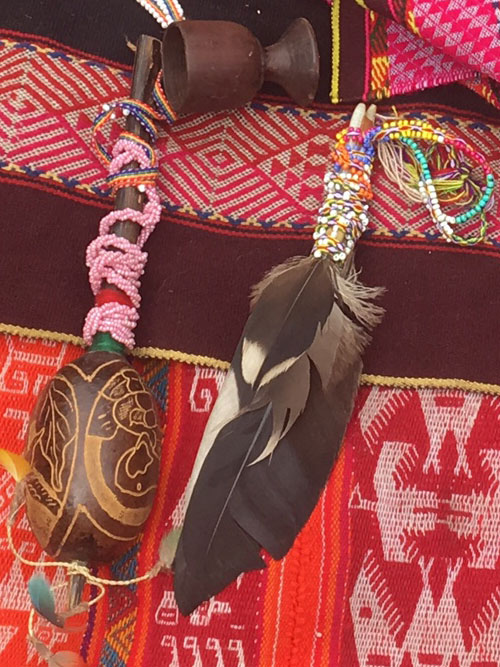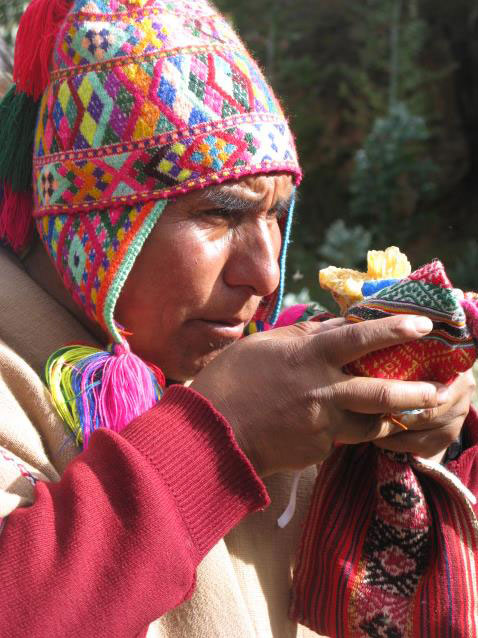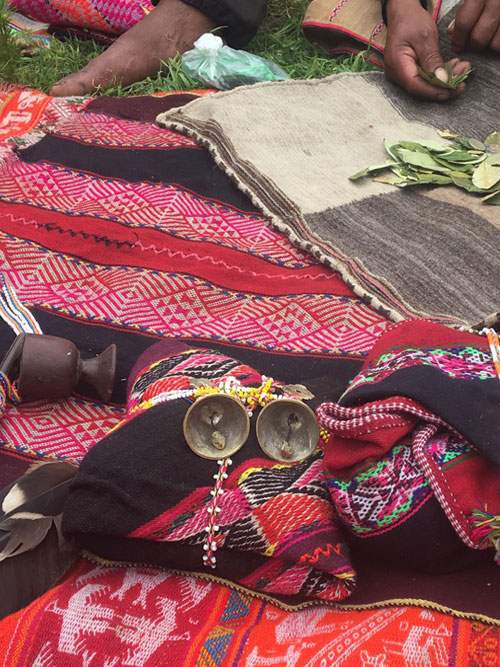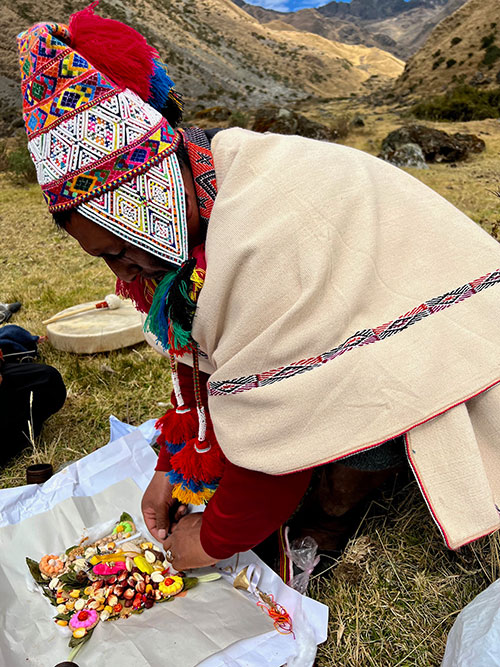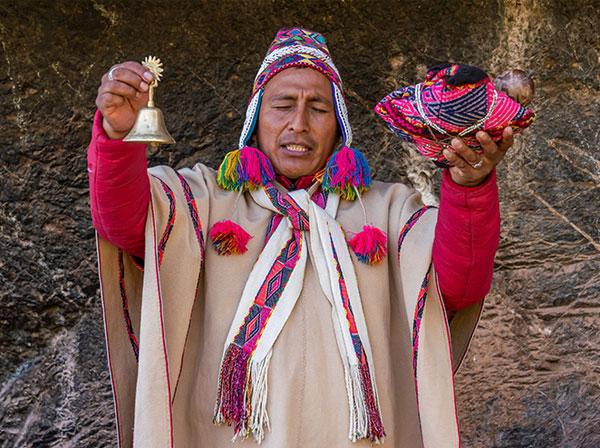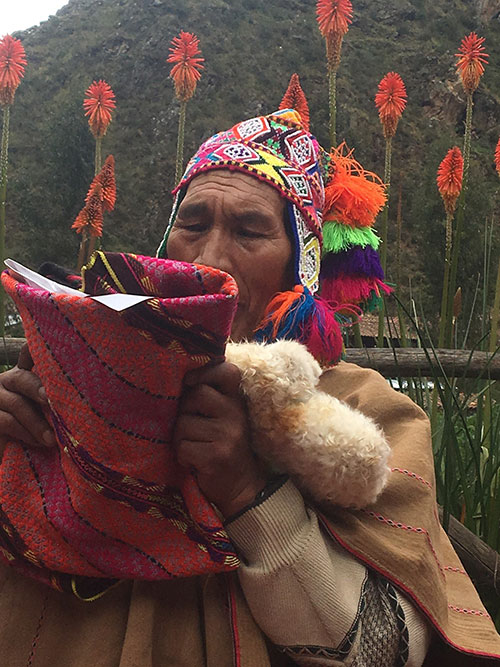 ~ participant reflections ~
My experience in Peru was truly transformational. Every morning I woke up with the desire to share love with everybody around me and give a hug to the first living being I saw either a new friend, a shaman, a small child from the mountain village or a donkey. Was it because I was surrounded by people who came to Peru to learn more about themselves, meet new challenges and grow? Or was it because our leaders were so positive and inspirational? Or because of the magical energy of Peru in general? I will always cherish these memories in my heart letting them guide me through life journey…
Nina… Aspen Colorado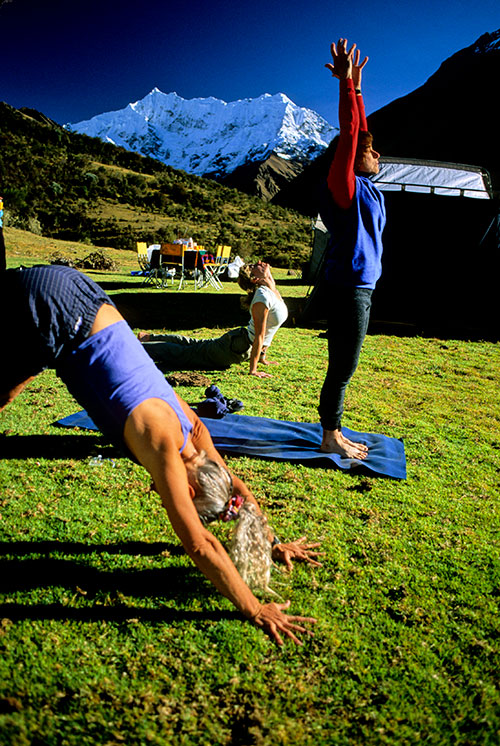 Our trip to Peru in May was a wonderful, magical adventure. We practiced yoga in exquisite studios, in Inca ruins, by streams, on mountain passes . . . we shared experiences with local people, shamans and weavers, farmers and porters. And we discovered that all the hype about Machu Picchu was accurate. It is a stunning place . . . clouds dancing in the mountains, so many details in the structures, an incredible engineering feat. Every day in Peru ended with great memories. It was a really great trip of a lifetime!Bob and Torrie
This trip exceeded my expectations on so many levels with the time in ruins, shopping for local specialties, learning about local culture and traditions, tremendous views and vistas and outstanding hiking and camping experiences! None of this would have been possible without the expertise, ease and considerable thoughtfulness of Deborah and David – nothing was missed and everything worked so well for all of us. I have such heartfelt memories from the people, places and events of this amazing trip — I would do this same trip all over again it was so good!!!!
Francie Rawlings… Philadelphia 2014  Yoga Adventure Peru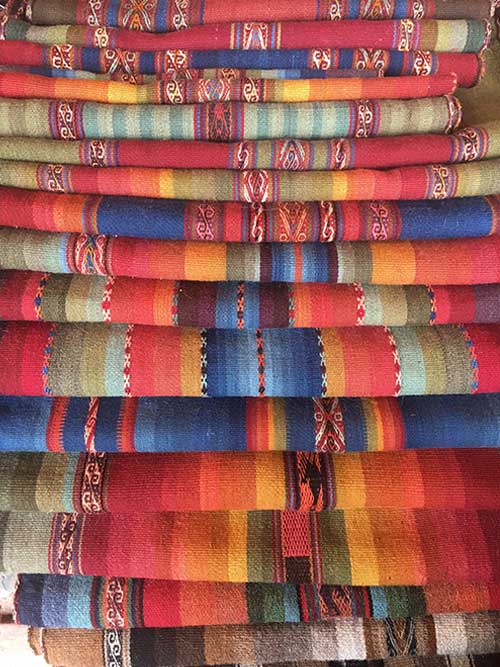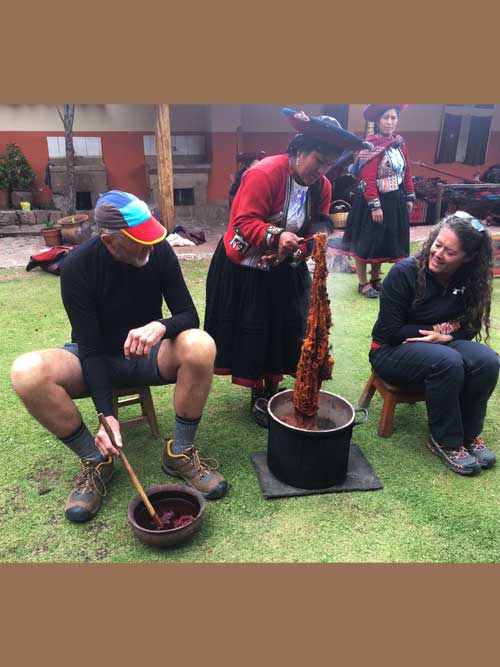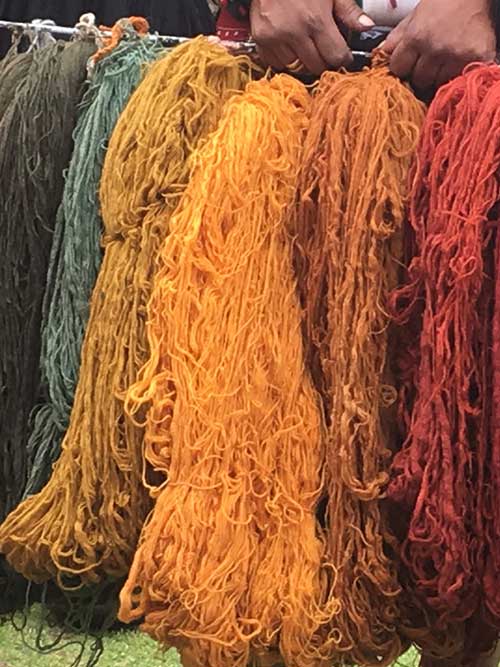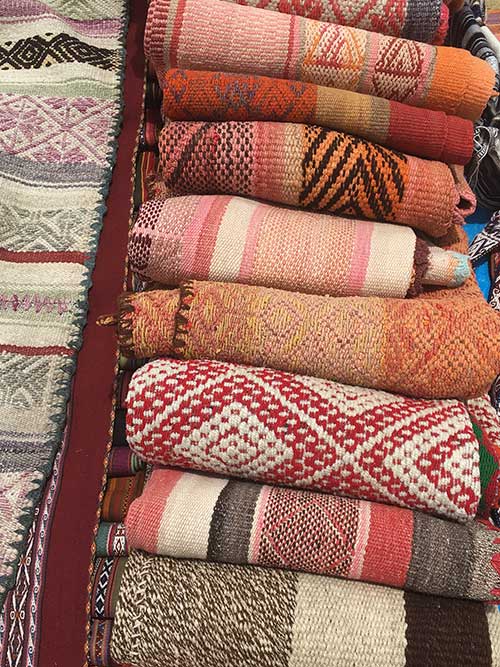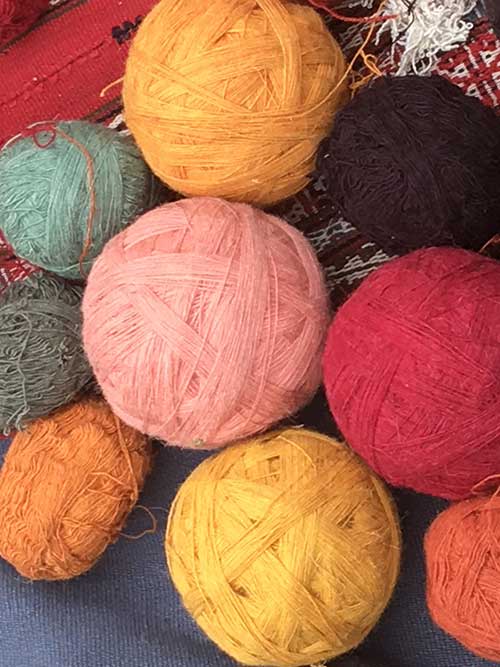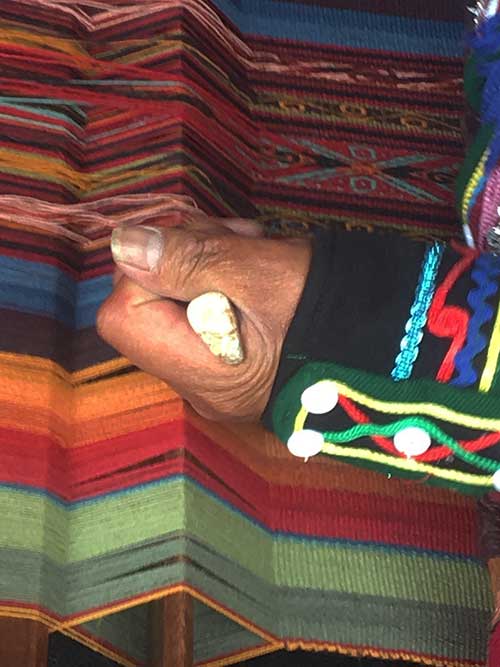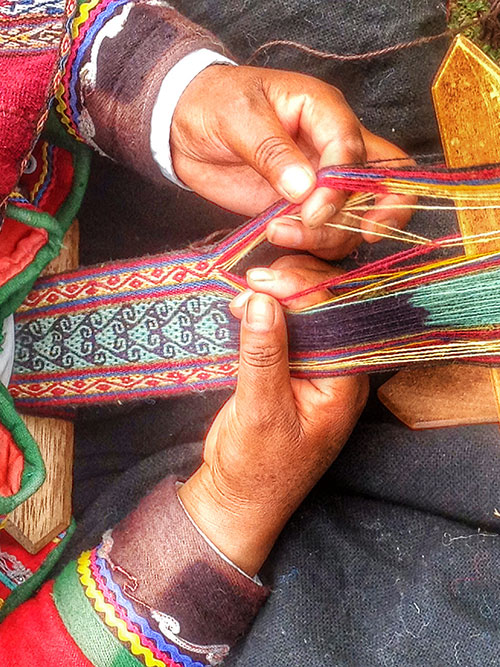 My thoughts and feelings are ever shifting,. So I put them on paper.: Anticipation usually leads the way. What will be? Who will be there? How will it go? As hard as it was getting myself up those trails I never felt like I was doing it alone. I have always been concerned about those in the back so I have a tendency to lay back. I must say that a lack of oxygen played a small part in helping me be patient and conserve my energy. 🙂 Majestic "Veronica," with her beautiful snow-capped peaks, boldly pushing through the clouds, Lovely yellow lady-slippers and the ever present bromeliad clinging to it's surroundings for survival The calls of, "here come the horses," as the noble, inspired and determined animals thundered by on narrow mountain trails day after day Carrying that which was so precious to each of us. As they passed I think I heard one whisper, "step aside I have work to do.;-) At night we lay down together, the combined smell of cold, fresh air and the dung of our friends was "warming" and "grounding." In Vietnamese "dung" can mean handsome or beautiful. Works for me. 😉 The rushing of the waters as we sat or lay down, as one with what is within us all. Calling, whispering to each of us. Waking each morning to the voice of Delia asking if I wanted tea or coffee, and preparing it on the spot, at times I questioned my worthiness. Watching the young men working and playing together I am reminded again of "community," and festivity of spirit. Again the ever-looming mountains, with all their secrets, somehow protecting us. The Incans knew! Living, life-giving yoga each morning to awaken the body and soul to "potential." Finally, with a swagger, nature unfolds and brings forth it's fine linen in the form of a bright, majestic rainbow. There are no words! As I continue to grow, not old but upwards, I can still remember the feelings of childhood. Simply, that child continues to live within and remind me of who I am. Fear, anger, jealousy, restlessness, sorrow, disillusionment, humiliation are being replaced by love, empathy, confidence,optimism, jubilation. Always shifting, never constant, now I know and can participate in the "now" moment. It will shift and I am still here.
Cesar, Francisco, Feliciano and Delia, you are forever in my prayers.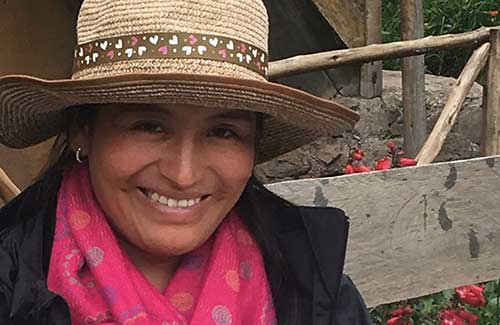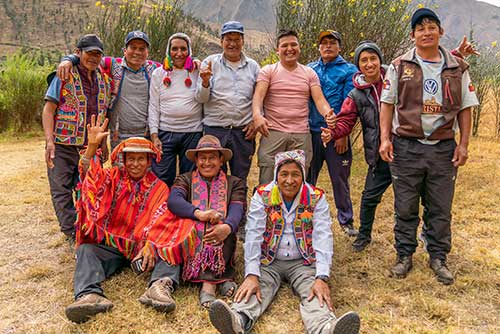 Each of you has made a living impact on my life, especially my heart. I miss you already. Thank you so much Debra and David for presenting this opportunity that I will never forget. " Don't hurry, be happy!" Love you all. Looking forward, Wil
Hope this finds you well and settled after our trip to wonderful and mighty Peru.I just wanted to say thank you for all the time and energy that you put into making that trip such a special journey….it was amazing to say the least; the inspirations of Peru will stay with me for a very long time.Anyway, the main reason for the email was to thank you for sharing Peru, sharing your knowledge and wisdom and your kindness. Thank you for looking after me and being so caring. Thank you for your patience, good humour and utter thoughtfulness at every twist and turn of the journey.Thank you, quite simply, for being you…a wonderful, inspirational woman with a heart of pure gold. Namaste – Paddy X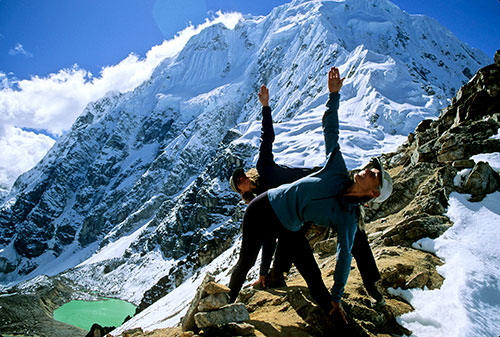 "Whew! Home again. I hope you're as well as we are.
We LOVED our whole trip! Machu Picchu had been a lifelong dream of mine, a big one. Now my wish list seems much shorter! I'm so glad we went with you. It couldn't have been better.
I'm looking over my photos and thinking, what a great trip. I realize you had a complicated set of arrangements to work with — all the people with their individual needs, everyone's expectations, — and you made it look easy. Accommodations, schedule, pace, people, food, everything was perfect. I want to go again. And my interest in yoga has been rekindled, again thanks to you. Well, wherever you are, just know that we appreciate what good care you took of us. You gave us an unforgettable trip."
Gail and Phil  Aspen Colorado
Peru, Sacred Valley, Machu Picchu Yoga Adventure
The 200-hour Yoga Teacher Training in Peru was exceptional! Deborah's deep knowledge of Yoga and her connection to the landscape and people provided a rich and diverse experience. We traveled through the Sacred Valley, experiencing the Peruvian culture and people in an intimate and personal way. We stayed at a beautiful eco-retreat center, trekked to remote villages and participated in sacred ceremonies with Shaman friends. The places we stayed were beautiful and the food was so delicious!
Throughout the trip, we provided Yoga to the Peruvian people; including women weavers, children in remote villages and even construction workers who enthusiastically participated. So much laughter and smiles were shared at each stop. The experience certainly deepened my own practice, knowledge and teaching of Yoga while it also expanded my understanding of the world and the beautiful people in it.
~ Beth Nolan
"Trying to put into words all the gratitude I have for the Peru experience I had with David, Deborah is almost as challenging ad the amazing trek I got to be a part of! The lifelong connection and authentic relationship to the communities they have been a part of there makes traveling with Deborah and David an experience like no other. I had been a student of Deborahs for several years Part of my interest in the trip was the opportunity for continuing education by sharing yoga with the "village people" and learning how to apply the teaching of yoga in a more universal setting, taking yoga beyond practice and into everyday life, relationships and community. To this day, it is the happiest I've ever been sharing yoga. Im also extremely grateful for the connection I made with David during the trip, he was such an incredible guide especially during the trek. His sense of humor got us through even the most intense of weather, and he has become one of my most valued life teachers  since that time. If you ever get the opportunity to travel to Peru, I very much encourage going with guides who have as much love for the land and the people as David and Deb do. "-Lynsey Tamposi


Home
Destinations
Calendar of Events
Contact Us